I will no longer maintain this portion of the website. The new chemistry website can be found at http://pvchem.weebly.com (click link to be redirected).

I will leave this page up as it does contain important information and helpful resources to my chemistry students.
General Information on this Course


Outline of Units (subject to change)


Courtesy of the

American Modeling Teachers Association

Materials and daily outlines for each unit below is found in the above drop-down under "Mod Chem."

Simple Particle – Describing Matter: Matter is composed of featureless spheres (BB's) which have mass and volume. These particles are essentially the "atoms" proposed by Democritus.
Simple Particle – Energy and States, part 1: Our BB's are in constant, random, thermal motion, the speed of which depends on the temperature. The BB's interact with one another by collisions.
Sticky Particle – Energy and States, part 2: Our BB's also exert attractions on one another. Energy is a conserved substance-like quantity that is stored in various accounts and transferred in various ways.
Bonded Particles – Describing Substances: The particles that make up substances can be compounded from smaller particles. The fact that compounds have definite composition leads us to Dalton's model of the atom. Evidence from combining volumes and definite mass composition allows us to deduce formulas of compounds.
Counting Bonded Particles – the Mole: From Avogadro's Hypothesis we are able to count molecules by weighing macroscopic samples.
Particles with Internal Structure: We find that atoms have the property of charge and some internal structure; we use the Thomson model of the atom to account for our observations.
Models of the Atom: From an examination of the radiation emitted by hot metals and atomic gases we conclude that atoms must have internal structure not explained by Thomson's model.

Periodic Table and Bonding: We extend the Bohr model to many-electron atoms, using it to provide a structural explanation for the organization of the Periodic Table, and to examine models of covalent bonding in compounds.
Representing Chemical Change – Particles and Energy: Chemical reactions involve the rearrangement of atoms in molecules to form new molecules. This rearrangement of atoms results in a change in the chemical potential energy (Ech ) of the system. This invariably produces changes in thermal energy (Eth ), and results in energy transfers between system and surroundings.
Stoichiometry 1: Equations representing chemical reactions relate numbers of particles (molecules or formula units) to weighable amounts of these particles.
Stoichiometry 2: Equations representing chemical reactions can also relate numbers of particles (molecules or formula units) to volumes of gases, solutions and to the change in chemical potential energy.

Grading Policies

The following scale will be used to determine grades
92 and up = A 73 = C
90 = A- 70 = C-
87 = B+ 67 = D+
83 = B 63 = D
80 = B- 60 = D-
77 = C+ 0 = F

Each Quarter will account for 44% of your semester grade.

The Semester Exam will account for 12% of your semester grade.

Grading Categories and Weighting

Tests and Quizzes = 55%
Homework/Lab = 35%
Participation = 10%

"You can't spell 'chemistry' without 'try.'"
Powered by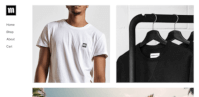 Create your own unique website with customizable templates.